1kg ?Especial Gourmet
340g ?Especial Gourmet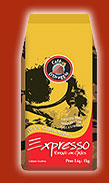 Café produzido acima de 1000m de altitude, com grãos 100% arábica, das variedades Catuaí e Mundo Novo. Produto de origem única, feito a partir da seleção dos melhores grãos ( peneira 17 acima ), propiciando um café de acidez e corpo equilibrados, aroma intenso, sabor adocicado e grande cremosidade. Especialmente para ser apreciado em máquinas de café espresso. Torra clara.
O Café D'Oraggio Torrado em Grãos Gourmet, é empacotado em embalagem com válvula italiana especial, que impede a entrada de oxigênio e libera a saída de gases, conferindo ao produto maior durabilidade e preservando todo o aroma e o sabor.
A apresentação do produto em embalagens de 1kg e 340g, proporciona ao consumidor a opção certa na hora da compra.
At the same time, it a good way to
replica watches uk
the attention of the beholder and a good conversation starter. Portmann and assigns him the task of working to overturn a Swiss law that is preventing Oris from switching from making pin lever escapements to making more expensive Swiss lever ones. That same year, Oris introduces its first chronograph, the Chronoris, which is also the first auto racing related Oris
replica watches
. Later, auto themed
rolex replica uk
would become a pillar of the brand. Which lets the wearer adjust the time forward or backward in one hour jumps using pushers on the side of the case. The
rado replica uk
also has a patented system in which the date jumps backward if the local time is moved back over midnight. The new, manual wound movement, with a 10 day power reserve from a single barrel, makes
replica watches uk
debut.